doxycycline†
doxycycline†
is a topic covered in the
Davis's Drug Guide
.
To view the entire topic, please sign in or purchase a subscription.
Pediatrics Central™ is an all-in-one application that puts valuable medical information, via your mobile device or the web, in the hands of clinicians treating infants, children, and adolescents. Explore these free sample topics:
-- The first section of this topic is shown below --
General
Pronunciation:
dox-i-sye-kleen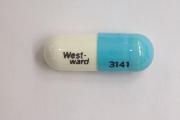 Trade Name(s)
Acticlate
Apprilon
Atridox
Doryx
Doryx MPC
Doxy
Doxy Caps
Doxycin
Doxytab
Monodox
Oracea
Periostat
Vibramycin
Ther. Class.
anti-infectives

Pharm. Class.
tetracyclines

† As the recommendations for treating/preventing anthrax are still evolving, all health care professionals are urged to check the most current recommendations at the Centers for Disease Control and Prevention Web site (www.bt.cdc.gov).
-- To view the remaining sections of this topic, please sign in or purchase a subscription --